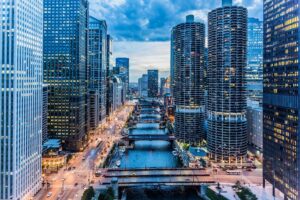 Commercial customers often need custom solutions for their heating. Sure, a modular heat pump sounds great if you've got a warehouse or a large building with multiple offices inside of it, but not every building is designed this way.
Industrial furnaces are still good options for commercial customers who have unique building and budgetary needs. As a team that provides many types of commercial heating installations throughout the area, we're confident in that statement. The tricky part is determining whether an industrial furnace in Bridgewater Township, NJ is right for your establishment, or if you'd be better off with a boiler or some kind of heat pump.
This blog is going to talk about why a customer might choose this kind of heating system, and how they stand to benefit by going with an industrial furnace system. Just make sure you get your next commercial heating system installed by the pros!
Gas Is Affordable and Effective
Nothing kills a business like having a cold workplace when customers are trying to make purchases, clients are trying to make deals, and employees are trying to work. Even if you've got living spaces with tenants, they'll move away and break those leases quickly if wintertime becomes unbearable, even indoors.
No matter how energy-efficient a heat pump might be, if it can't keep things warm effectively, then your business is dead in the water. Don't get us wrong, heat pumps can keep buildings warm very well, but it depends on your building's power grid and other factors that can be difficult to measure without a professional.
Industrial gas furnaces, on the other hand, do an exceptional job at keeping buildings warm. We can retrofit your building's old ductwork to send heated air through every room in the building, and gas is still relatively affordable compared to other fuel sources.
Older Buildings and Air Circulation
Many commercial buildings in New Jersey are old, meaning they were designed and built before the 20th century. These are beautiful buildings and places where anyone would love to work or spend recreational time, but they're not as easy to heat as modern buildings. Modern warehouses and buildings can use modular heating systems like heat pumps because they were built for that purpose.
Older buildings often do a lot better with industrial furnaces or boilers. These systems can use the ductwork and air passages that are already available in the building, and provide powerful heat for everyone inside. You could even fit a ductless heat pump in a couple rooms if the furnace can't reach them, but overall an industrial furnace is a great choice for older buildings that want powerful central heating.
Make the Right Choice
If this is all making your head spin, then don't worry. Our team of experienced technicians and engineers can help design the perfect heating system for your commercial establishment. Take the stress out of the equation by calling our team today and getting an expert opinion. We're here to make things work for you and your business.